Clubmakers
---
Joshua Taylor
Aldeburgh/London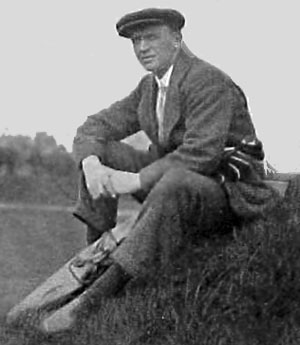 Josh Taylor was the younger brother of J H Taylor. Born in Northam in 1880, he played golf from early childhood onwards. In time he was apprenticed to Cann and Taylor, his brother's clubmaking firm.

His first position as a professional was at Aldeburgh and came after service in the Boer War. Clubs were made for him by Cann and Taylor and in the 1920s they produced his own model with the mark of a greyhound. He served as professional to several London clubs including Acton, Richmond Municipal and Sudbury. He represented England (against Scotland) in 1913 and played in the pre-Ryder Cup international match against the USA at Gleneagles in 1921.

In clubmaking he received a patent for what might be termed a "bramble" club in 1912. Golf balls of the period had either concavities, "dimples", or convexities "brambles", so Taylor proposed a striking face for iron clubs with hemispherical or conical protuberances rather than indentations.

He also found time to write The Art of Golf, first published in 1913.

Search the catalogue for clubs by this maker