Clubmakers
---
Bridgeport Gun Implement Company (BGI)
Bridgeport, Connecticut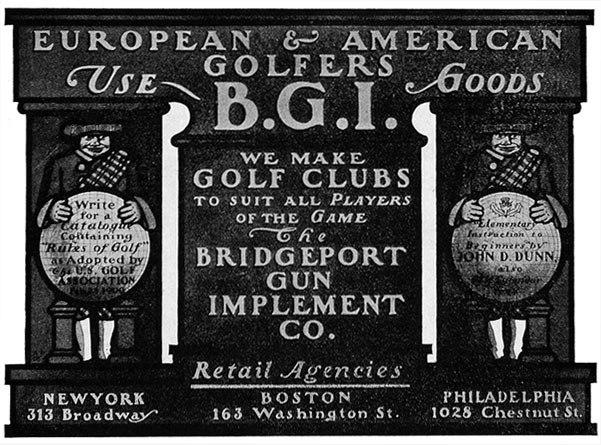 Of the early American clubmakers, this is one of the few which, in terms of craftsmanship, deserves its place among the greats of clubmaking. As the name suggests it started off making guns and related equipment as the Union Metallic Cartridge Company, one of a clutch of suppliers owned by the New York sporti8ng retailer, Hartley and Graham.

The name changed to Bridgeport in the mid 1880s and, around 1896, the company began to sell golf clubs and, the following year, they brought in Willie Dunn, the great Scottish emigré pro and clubmaker, to run the business. This was enough to give the company the credibility it needed and he left the following year whereupon his nephew, John Duncan Dunn, took over his role. Young Dunn had patented the one-piece driver in England and lost no time in introducing it to BGI's product line. If we can speak of the 'early days' of a company which only made clubs for eight years, these were marked by high quality workmanship and elegant design and this is apparent in their scareneck woods and early putters.

Later they looked to the cheaper technique of drop forging, as opposed to the traditional Scottish hand forging, of irons and, after the turn of the twentieth century, to importation of Mills and other aluminium clubs from the UK. Although many saw drop forging as the way ahead, it seems not to have worked for BGI as they ceased production of clubs in 1904.

Search the catalogue for clubs by this maker