Clubmakers
---
James Spence
St Andrews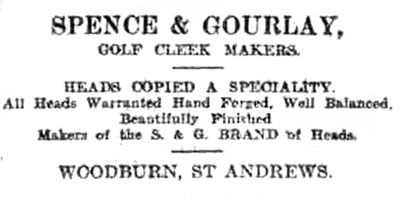 James Hampton Spence opened a clubmaking business with George Longburn Gourlay in the old lifeboat shed at St Andrews sometime in the mid-1890s.

The operation of the business was interrupted by WWI, two of the cleekmakers losing their exemption certificates for military service in early 1917 with the remaining three likely to be called up some time shortly after. After the war, Spence started up again, without his business partner, at 39 Abbey Street. In 1919 he converted the business to a limited company with £1500 capital .He dropped the old initials "S & G" which had been the firm's cleekmark and introduced a new one of a flagstick.. He registered this design in 1922. The business was taken over by Robert Forgan in 1926 and with it the right to the flagstick mark which the Forgan company used for many more years.

James Spence had little time to enjoy the sale of the business, he died in June 1929 at the age of 59.

Search the catalogue for clubs by this maker