Clubmakers
---
James Forrester
Elie and Earlsferry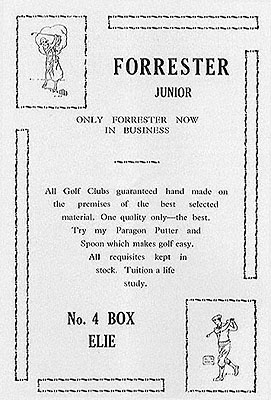 Born in Earlsferry in 1878, James Forrester left school at the age of 12 and served an apprenticeship as a clubmaker under his father, George.

I was interested to see he was up before the sheriff in 1895 charged with 'trespass in pursuit of game' (poaching). W R Ketchen, stalwart of the golf club and local lawyer always seemed to sort things out for the golfing boys, as he did for Isaac Mackie, and the case against young Forrester was dropped.

After some time as a professional player he turned to instruction and clubmaking formally joining his father in the Elie business in 1903 when it was renamed George Forrester and Son.

James was despatched to London to open a retail outlet there but still had time to share the role of pro at the Elie club with his father. In addition to innovation with clubs the Forresters were very proud of the gas-powered machine they developed to wind the cores of rubber-cored balls and techniques to make the covering consolidate with the rubber. They produced the Dreadnought and the Traveller in 1907 with two cheaper models, the Pioneer and the Star of Burns.

After his father's retiral he carried on in business as "Forrester Junior" and his slogan "Only Forrester now in business" perhaps suggests a flow of old codgers to the shop asking about getting one of his father's clubs instead.

He remained as professional at Elie for half a century eventually retiring a week after his 72nd birthday in September 1950.

Search the catalogue for clubs by this maker