Clubmakers
---
Ted Ray
Scarborough/Watford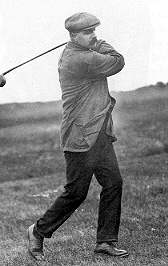 Born in Jersey in 1878 but, unlike fellow islanders Vardon and Renouf, he began his career at home as professional to the Royal Jersey club. He crossed the water to Devonshire at the turn of the century and moved to the famous Ganton club in Scarborough in 1904. He ended his playing career with a twenty year plus spell at Oxhey in Watford. Some Ray clubs from Oxhey are seen from time to time but he is best known for his design of the Ray-Mills aluminium putter which was Standard Mills top seller.

After many good finishes he finally won the Open in 1912 and tied for first in both the German and Belgian Opens of the same year. 1913 was the year for just missing out: he was runner up in the Open and lost out to Francis Ouimet in the famous playoff for the US Open. He did return to the US after the war and won the US Open in 1920. He played in the two pre-Ryder Cup GB vs USA matches in 1921 and 1926 and in the Ryder Cup proper of 1927.

He died in hospital in Watford after a long illness on 26 August 1943.

Search the catalogue for clubs by this maker