Clubmakers
---
William Park and Son
Musselburgh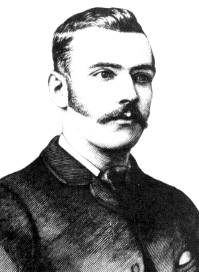 With Tom Morris, he was one of golf's first superstars. His father, and uncle Mungo, both won the Open Championship. He won himself in 1887 and 1889 and was runner up in the intervening year, thinking he needed a four on the last hole to tie with Harry Vardon he played safe only to find Vardon had shot a three. This, of course, before the days of leaderboards around the course!

From the time he returned to Musselburgh from being assistant to his uncle at Alnwick and professional at Tyneside in 1884, until the start of the next century, ideas flowed from him. He invented the bulger driver in 1885, a patent lofter in 1889, a patent driving cleek in 1891, a patent compressed driver in 1893 and the patent bent-neck putter of 1894. He also contributed a golfball with 56 hexagonal side panels which he thought slowed its motion on the green. Tremendously inventive, he always seemed to have his pulse on what technology might be in demand: in 1913 he patented a "stepped-face" iron, to impart more backspin to the ball, a thriving area for innovation until such clubs were banned in 1921.

In 1895 the company was advertising branches in Musselburgh, South St Andrew Street, Edinburgh, Deansgate in Manchester and 115 Cannon Street, Lomdon.

William Park and Son opened as a retail outlet in New York in 1896, run by his younger brother, Mungo, (b. 1877). This was followed by course design businesses in the same city and in Toronto. The New York business seems to be closing in 1897/8 as Mungo has an advertisement in the American version of Golf 'Mungo Park now manager for his brother Willie Park, Jr, of 118 West 23rd street, New York, on account of the discontinuance of the business, is open for an engagement as professional for the season of 1898' but anothet brother, Jack is dispatched to take care of it.

Over his lifetime Willie Park designed about 170 courses. He founded Huntercombe in Oxfordshire as a golf resort in 1900, again with Mungo as his assistant. In between all this he still found the time to write two classic golf instruction books, The Game of Golf and The Art of Putting. Putting was a skill for which he was particularly renowned, using a gooseneck, offset putter he designed himself and known as "Old Pawky". He died in 1925.

Search the catalogue for clubs by this maker