Clubmakers
---
Peter Paxton
Musselburgh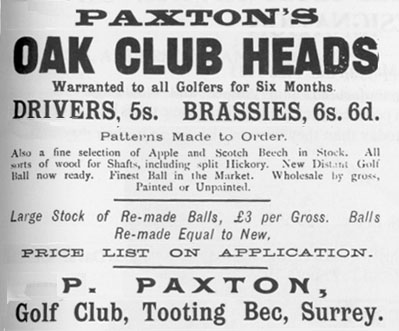 Born in Musselburgh in 1859, one of the truly great clubmakers with his clubs highly prized even in his lifetime. He learned both his golf and his clubmaking in Musselburgh, starting as a caddie, and learning from Willie Park snr's brother David Park, at least how to play golf, but possibly also something of ball and clubmaking. One suspects a strong Park influence given that he produced both bulger drivers (as invented by Willie Park) and compressed clubheads, a technique of bending the head so that the grain ran down the neck and along the head to give the neck more strength, a process patented by Willie Park. A more formal training on clubmaking was also provided in the town where he was one of Tom Hood's first apprentices.

He was a very good golfer, runner-up in the Open of 1880 and, like many Scots golfers of his day, took the road south and took over the position of professional from his brother John at the Worcestershire club in Malvern. He was professional at several other clubs including Royal Eastbourne and Tooting Bec, but his real passion was clubmaking and making golf balls. He was a fine craftsman but he also demonstrated a strong innovative streak with the creation of a machine for turning out two or three thousand gutta balls weekly in 1892; a patented grip; a combined club cover and stand; square socketed clubs and clubs made from an exotic wood he called sylviac (which may have been itauba).

When he left Royal Eastbourne in 1893, he took four skilled clubmakers with him to his new position at Tooting Bec and was, by then, using a crown as a mark on his clubs to reflect the royal patronage of the Duke and Duchess of York.

Search the catalogue for clubs by this maker