Clubmakers
---
Charles Brand
Carnoustie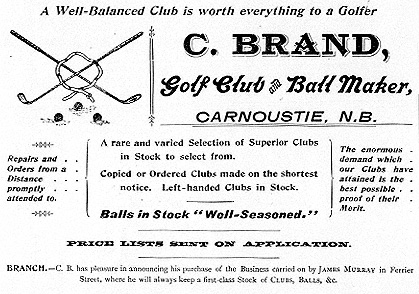 The earliest record we have of Brand making clubs is around 1890 by which time he was over 40 years of age, having been born in 1849. He had been appointed steward and caretaker to the Caledonia club in Carnoustie in 1889 and took to clubmaking while he was there and starting his own business while remaining as steward until 1908. His transitional woods and smooth-faced irons from this early period are very collectable.

He first expanded his business in 1895 with permission to extend his workshop on the links. In 1899 he expanded his business further by taking over James Murray's operation in Ferrier Street (Murray went to South Africa), as noted in the advertisement of the same year. At the time the acquisition of the Murray shop was announced, the press reported that Brand had just had 'an extensive order for all kinds of golf clubs from China where Carnoustie golf is strongly represented'.

Another expansion followed in 1905 when he built a new factory between the two Carnoustie club houses. The distinctive building, with its golf umbrella dome, was bought by Robert Simpson in 1920 and continues as Simpsons Golf Shop to this day.

I have yet to come across an aluminium club marked with his name but the local press carried advertisements for these in 1901, 'same as played by the amateur champion'.

The local press also made much of a technique he developed (and kept very much to himself) of recovering Haskell golf balls.

A Lion Rampant cleek mark identifies his later output.

He died in February 1922 with the Courier advertising to let the 'commodious premises' he once occupied in Links Parade in June of that year.

Search the catalogue for clubs by this maker