Clubmakers
---
Gertrude Harrison
Cleveland, OH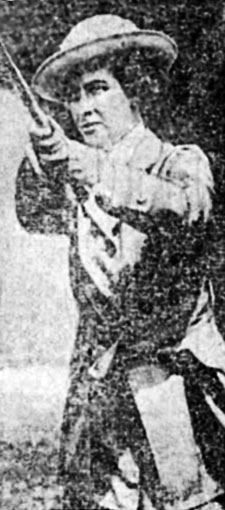 Gertrude Harrison née Macadams may never have stamped her name on a clubhead but she invented two pieces of golf equipment and has the distinction of being the first woman golf professional.

She was born in Oswego, New York, in 1871 daughter of Henry Joseph Macadams, supposedly from Glasgow (I am still investigating the Scottish connections of her father and her husband) and Caroline Nettleton or Crosby (records conflict) from Oswego. The family must have moved around a fair bit as her brother had been born in Chicago a year or so before and afterwards they ended up in Ohio.

Gertrude married George Harrison in 1895, an accountant arrived from Scotland in 1891, in Cuyahoga County, Ohio. Her surname for the marriage was Mahoney, so one assumes she had already been married, and she had a five year-old daughter, Alice, who later took the Harrison surname.

The family lived on Doan Street (now East 105th Street) in Glenville Village and, if they had been quick, the story that the three-holer they built in the garden there was the first golf course in Cleveland may be true, just pipping the Country Club, then also in Glenville. Gertrude is reputed to be the first woman to have played that early Country Club course.

Golf became really important for Gertrude in 1913. Not as a leisure pursuit while supported by her husband but as a way of earning a living. George was 70, 27 years her senior and died on 6 June 1914. She started a golf school at 10600 Euclid Avenue in Cleveland with herself as professional and D K White who had been a professional at various clubs in the mid-West but was originally from St Andrews, as her assistant. Clearly not afraid of hard work, the school was open from 8.30 in the morning until 10.30 at night. Her daughter continued to live with her, for a while they were with Gertrude's brother, A J, and later in a rented property on Amesbury Avenue.

She added another post to her portfolio by becoming professional at the Meadville Country Club in Pennslyvania for 1918-19 which she advertised in her entry in Golfers' Magazine while also indicating her interest in finding a position in the South for the winter.

In 1921 she moved her golf school to the new Hanna building which opened on Euclid Avenue and 13th Street. It was announced in February of the following year that she had been appointed as a professional by the Canterbury Club in Cleveland to give instruction to lady members. This is impressive. The club had been formed as a men-only institution in February 1921 and the course only opened in July 1922 so Gertrude was there from the start. (The Cleveland Encyclopaedia states that the Canterbury club only accepted women members from 1923 so this is at odds with that.)

She clearly had an inventive mind. The few mentions of her on the internet note her invention around 1928 of a device to return the ball to the golfer's feet when struck into a driving net. She also patented a device worn on the wrist which would produce an audible signal when a golfer had properly cocked the right wrist at the top of the back swing and, on the down swing, again emits a signal when the wrist becomes substantially straight again. The patent was applied for in 1932 and granted in 1936.

Around the time of starting the Hanna building golf school she decided to base her instruction around teaching Bobby Jones's golf swing which is not the worst strategy I've heard. Her attention to detail was such that when Jones retired in 1930 she worried that some variations had crept into her mind. So, to make sure she was getting it right, she set off for New York in 1931 to see Stewart Maiden, the font of all knowledge on Jones. It turned out Maiden was ill and could not see her so, undaunted, she turned to Jim Barnes, also considered an authority on the Jones style, and, after spending several days with him, ironing out every point in the swing, she returned to her teaching in Cleveland. 'You never get too old to learn something in this game', she was reported as saying. 'I've been in it 19 years and I'm still learning'.

She died of a heart attack on 3 January 1938 and is buried next to her husband in Lake View Cemetery, Cleveland.

Search the catalogue for clubs by this maker