Clubmakers
---
Harry Amos
Bramley/Portsmouth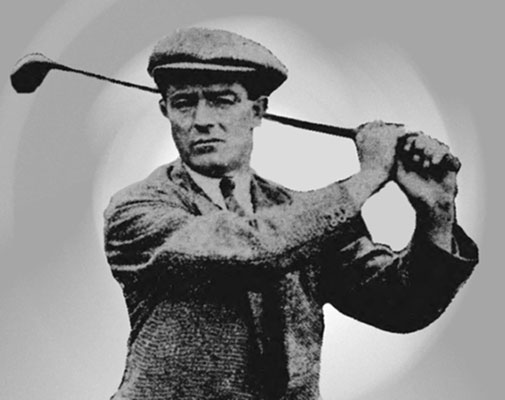 Harry Amos was assistant to C H Mayo at Burhill for a couple of years befoe the First Work War and, when his boss proposed the formation of the Niblick Brigade, he was one of the first to join, with Walter Mayo, Charles's youngest brother, another assistant at the club.
Unlike Walter, he survived the war and became professional at Bramley after demob.

He looked to be a player on his way to tournament success. At the Gleneagles Tournament (The Glasgow Herald 1000 Guineas in 1925 he beat Ernest Whitcombe and the Australian, Joe Kirkwood, before narrowly being squeezed out by Archie Compston in the last eight.

He moved clubs after that too, to the new Great Salterns course in Portsmouth, and the local paper waxed lyrical, 'although he is already in the forefront of young British golfers, the best has not yet been seen of him'. The competition prizes, though, did not come. The course opened on 14 July 1926 and he played an exhibition match against George Duncan. His most competitive season at Salterns, by then, Portsmouth City, was perhaps his last in 1932 with the Portsmouth Evening News noting he had been in good form, recently winning the Hants Alliance of Amateur and Professional Golfers Championship and talking up his chances at the Open Championship in Sandwich that year.

There would be no surprise if Harry's heart had gone out of it. His only son, Kenneth, had died in March of that year. He announced his intention to leave Portsmouth in July and played his last game there in September before becoming professional at the Nevill club in Tunbridge Wells. He remained there until his retirement in 1945.

Search the catalogue for clubs by this maker