Clubmakers
---
Arthur Rigby
Carnoustie/Chicago/Racine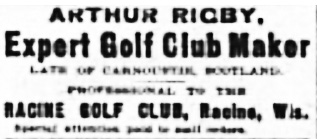 Arthur Rigby, a clubmaker with Robert Simpson with a fine reputation for his craft, left Carnoustie for America in March 1899 with George Low and Robert S Simpson with his first post being announced before his departure as assistant to fellow Carnoustiean Willie Smith at Midlothian near Chicago.

He enhanced his reputation as a clubmaker and instructor at Chicago and the following year he became professional at the Racine, WI, club. On Smith's recommendation, calling him one of the best if not the best clubmaker in the country, he was hired by the Los Angeles Country Club in 1901, returning their regularly for the winter season.

At some point he moved to Southern California permamently and he designed a new course for the Virginia Country Club in Long Beach in 1909. He was appointed their first instructor and course supervisor when the course opened in 1910.

He was associated with a couple of other Orange County clubs until the end of the 1920s. When the Arbroath Herald reported a holiday back to Angus in 1939 he was, by this time, running a golf school.

Search the catalogue for clubs by this maker