Clubmakers
---
David Grant snr
North Berwick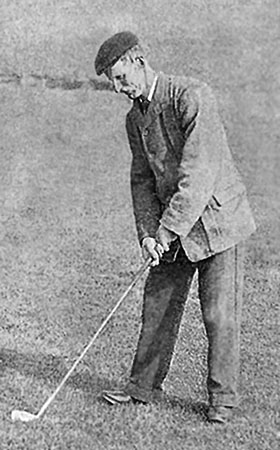 A number of newspaper obituaries, probably from the same source, state Davie Grant snr was born in Dumfries. This may reflect some embarrassment at that time that he was born out of wedlock. If so, I rather like the appropriation of Dumfries as a term for illegitimacy. In fact, he was born in Leith in 1860, grew up there, worked as a train engine cleaner at St Margaret's Works after school before moving to North Berwick as a golf professional aged 18.

He played for purses with his brother-in-law Ben Sayers, notably defeating Hugh and Andra Kirkaldy over St Andrews and North Berwick for £50 a side. The playing connection with Sayers was the received wisdom in the press then, and remains so, although Grant just as often played a fourball with a partner against Ben Sayers, such as 2 x 36 holes Prestwick and North Berwick with Sir John Hay against Sayers and Captain Bertram in 1890. And even 'novelty' matches: he and Jack White played the Sayers brothers in 1893 with players only allowed to use a patent cleek and an iron (new centre-shafted clubs from Robert Anderson and Sons, a nice piece of marketing ). In 1896 he partnered Mrs Asquith at North Berwick in beating her husband, the future prime minister, and Lord George Hamilton, First Lord of the Admiralty.

Around 1885 he became a professional at Musselburgh and was playing in a tournament at Troon with that affiliation in October 1887. He had another post as professional away from North Berwick when he was appointed at Stanmore in April 1893. He resigned from the post shortly afterwards citing health reasons. There is no doubt he did have health problems, probably suffering from tuberculosis for many years before it killed him but he still maintained a punishing schedule of golf tournaments around the country in places one would expect, Machrihanish and Hoylake (1894), Gailes and Carnoustie (1895), Cruden Bay and Richmond (1899) and places a little more surprising, Bridge of Weir (1892), Kilmacolm (1893), Dumbarton (1895) and Oban (1896) as well as being a fixture in the Open Championship,

His greatest skill was reputed to be his teaching, one of his pupils being Miss Edith Orr, ladies amateur champion in 1897 (the first time Scots and English women had competed in the same competition). He coached both Edith and her sister, who were the finalists, but Grant caddied for Edith throughout the tournament which did not go down well with the committee members of the LGU. His teaching methods were set out in a book published in 1901.

In view of his health he spent some winters in Biarritz, I suppose picking up matches where he could. Visitors put together a purse for him to play George Douglas there in March 1897, for example. I have read he was the first professional at Dinard but find no evidence of this. The Brittany coast is an unlikely place to seek warm dry weather and, in any event, it was his son, Davie "Sonny" Grant, who was invited there as professional in 1903. Davie senior's obituary in the Scotsman said, 'On returning recently from a visit to Biarritz, Davie went to Victoria Hospital, Edinburgh, from which a few weeks since he was discharged incurable and came home to North Berwick'. He died there on 24 June 1903.

Search the catalogue for clubs by this maker