Clubmakers
---
George Duncan
Stonehaven/ Wales/ London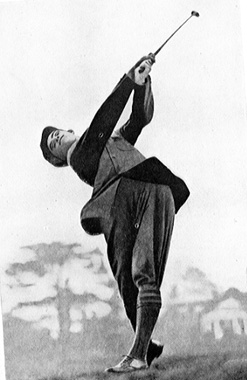 A native of Methlick, born 1883, he began his professional career at Stonehaven then moved south to Wales (Rhos on Sea, 1901-03, Caernarvonshire 1903-05). He was later at Timperley, a long time at Hanger Hill (1908-1924) and finally at Wentworth. He won the Open Championship in 1920 and was second in 1922. He also won the French and Belgian Opens and played for Great Britain against the USA five times.

There had been an American team anxious to test the strength of its players against the best of the British in 1921. A match was played at Gleneagles which the Americans lost 9-3. Another informal match was played at Wentworth in 1926 where the British triumphed 13½-1½. This match was put together by the seed merchant Samuel Ryder. George Duncan suggested to him that the two countries compete on a regular basis for a trophy to be donated by Mr Ryder. He readily agreed, underwrote the expenses of the Great Britain and Ireland team for travel to the first official match at Worcester, Ma., in 1927 and commissioned the golden chalice which bears his name.

Duncan was Ryder Cup captain in 1929 and won all his matches in these encounters including two victories over Walter Hagen, by 10 and 8 in 1929. His ten Scottish caps for appearances against England range from 1906 to 1937. A very speedy player, he also wrote a book, Golf at a Gallop.

His clubmaking business produced autograph models with iron heads made by Gibson in Kinghorn and a brassie made by Spalding.

Search the catalogue for clubs by this maker