Clubmakers
---
Arthur Clarkson
Carnoustie/Los Angeles et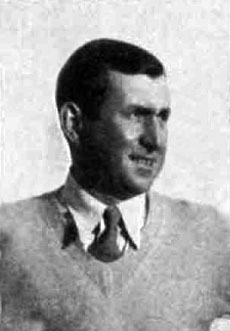 Arthur M Clarkson, the youngest in the family, born in the town in 1886, was a shoemaker in Carnoustie who after the customary 'social' for the golfers leaving the town for the USA in March 1910 went to take up the position of professional at Haines Falls, NY.

He certainly saw the country from sea to shining sea and by 1912 had moved west to Beloit in Wisconsin from where he failed to qualify for the final rounds of the Western Open. That same year he was professional at the famous Midlothian Club in Chicago and moved the following summer to Wheaton. He was back in Carnoustie for a holiday in the summer of 1914 and in 1915 was professional at the Highland GC in Indianapolis. In 1916 he entered the US Open in Minneapolis which suggests he may have been a pro in Minnesota at that time: he was certainly professional at Minnetonka the following year.

By 1919 he was back in Wisconsin as the professional at Kenosha from where he won the first two Wisconsin Open Championships in 1919 and 1920.

He went further west in 1921 to become the first professional at the new Rancho Country Club in Los Angeles (sometimes called the Ambassador Club as the first course was that of the Ambassador Hotel). Scott Chisholm, who was instrumental in bringing him to LA, wrote an adulatory article on Clarkson in Golfdom in 1929 claiming that it was his sales of merchandise which kept the club alive. He certainly had a famous clientele. Buster Keaton was a customer as was Jackie Coogan. He also had orders for two sets of handmade clubs from the Imperial House of Japan and other tournament professionals, Leo Diegel, George von Elm (who Clarkson coached as an amateur) and Ed Dudley played with his clubs. (His clubmaking departments was run by Jack Cornwall from Hoylake).

During his time at Rancho he returned to Britain to play in the 1924 Open at Hoylake and the 1926 Open at Lytham and, of course, visit Carnoustie.

Despite his moneymaking, after a 'misunderstanding' between the owner and the tax authorities, Rancho CC was forced to close in 1933 and Arthur became pro at the Riviera CC, He retired in 1933 and died in Santa Monica in 1961.

He had three brothers, Dick, Fred and Charlie who were also professionals in the USA.

Search the catalogue for clubs by this maker