Places
An Aberdeen institution - The Rubber Shop
(Source: © 2020, Douglas MacKenzie)
So, where would you expect the London Rubber Company to have operated from? Yes, correct: Inverness! (though half marks for Aberdeen or Oban and none for London.)
The company was founded in Inverness in 1886 with a branch in Oban and has been referred to as 'the largest and most influential house of its kind in Britain'. A few years later in 1890 George Fowler, a travelling salesman in Aberdeen had to stop his travelling as the result of a serious accident. As a plan B he bought the assets of the bankrupt Gauld and Company and set himself up as 'waterproof and indiarubber warehouseman' at their former premises of 16 St Nicholas Street, Aberdeen. Nursing aprons, mantles, coats, elastic stockings, medical equipment, indiarubber collars and the rather incongruous 'fine Whitby jewellery' (made from jet) were advertised at 'unheard-of-prices' and 'less than one half Gauld's prices'. He must have liked the business model because the same situation presented itself the following year when the London Rubber Company went bankrupt and he energetically spent the end of 1891 and early part of 1892 selling off all their stock but reversing into the company by adopting their name for the business.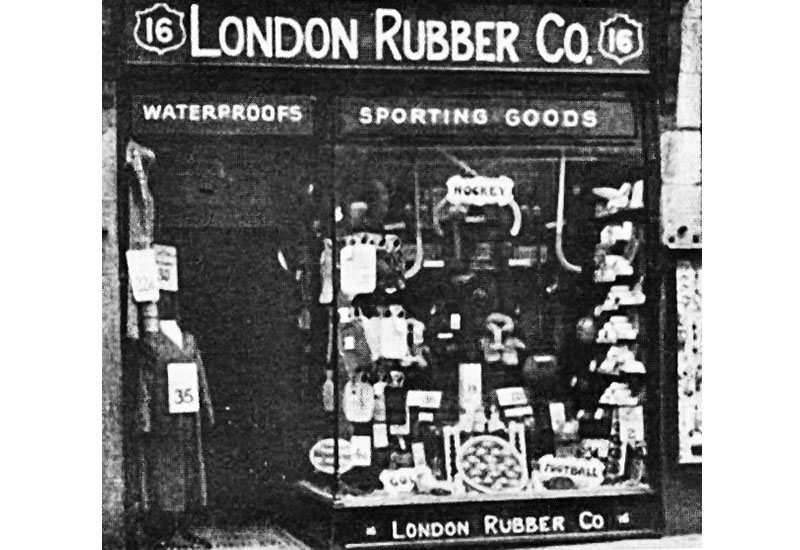 The London Rubber Company Shop at 16 St Nicholas St, 1890s

This was the company's first exposure to golf clubs and a strange one it was too as they tried to sell what is now one of the rarest oddities from this period. Robert Brand, who I assume was with the North British Rubber Company as his club patent was jointly assigned to them, was a fan of celluloid. He patented club heads made from celluloid (UK patent 9015), a golf ball, and the celluloid-headed clubs were fitted with the Kennedy roller grip, a celluloid revolving grip designed to neutralise the player's right hand by revolving around the shaft. Celluloid for golf was potentially a big deal. The North British Company was a major manufacturer and had set up the Scottish Vulcanite Company to develop products around patented rubber processes and also celluloid. Forgan had become involved, taking sole agency for its clubs in Edinburgh away from a very large retailer Thorntons, and giving it to the North British, presumably making the clubs for them with 'Brand's patent facings which, being unaffected by wet and quite unbreakable, are much superior to the old ram's horn mounts', a little ironic given their founder's supposed innovation in fitting ram's horn to early long-nose clubs.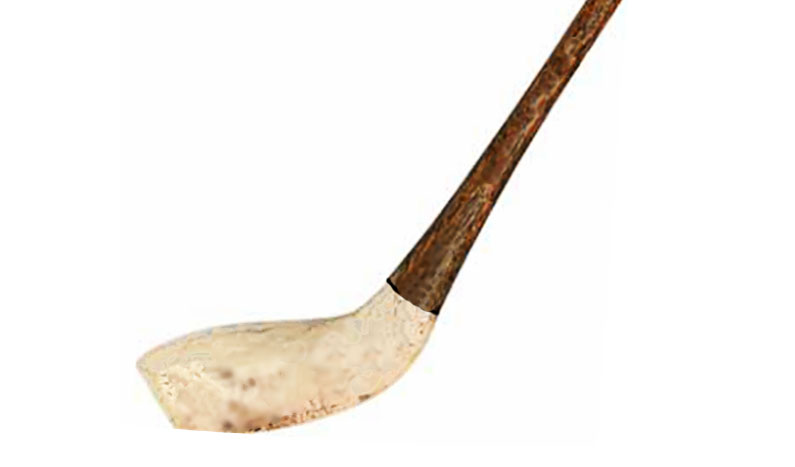 A Brand patent club with celluloid head

The clubs were an abject failure. Contrary to the claim, they did break, very easily. They may also have suffered from connections with 'gun cotton' an early name for cellulose which gave rise to many mythical tales of celluloid products exploding. Its flammability cannot be denied and, given sad tales of clubmakers' premises and pro shops burning down because of the stock of hickory clubs, I can imagine an unwillingness to add celluloid to the potential bonfire.
So it came to be that when George Fowler was down to the last two weeks of his everything-must-go sale ('as the whole stock must go, great bargains will be given') in February 1892 he had sole agency for Brand's patent clubs. They were left with the very hard to shift, women's snow boots and galoshes, 'portmanteaus (slightly soiled)', and women's heavy tweed coats 'without smell'. 115 years later a Brand patent driver was offered in the Jeffery B Ellis Collection sale at Sotheby's New York described as the only one known to be in existence (not quite true, I've seen a couple since) with a guide price of $10-15,000.
This did not put Mr Fowler off selling golf clubs. Perhaps golfers told him during the sale they would be happy to buy "real ones" and they figure prominently in the photo of the business. The Rubber Shop, as it was soon renamed, developed sporting goods as a principal arm of its business. The shop expanded in 1914, adding the space previously occupied by John Wilson, hatter, and the main floor and frontage adjusted accordingly. The brochure produced to commemorate 30 years in business in 1920 boasted 'a stock of over 1000 golf clubs' and there were many special offers to mark the occasion, drivers and brassies reduced from 9s 6d to 5s 11d and balls sold for a shilling instead of 1s 6d .The shop advertised clubs 'by all leading makers' but also sold their own woods and irons marked 'The Rubber Shop Aberdeen' though I do not know who supplied these as I do not believe there was a clubmaker in-house.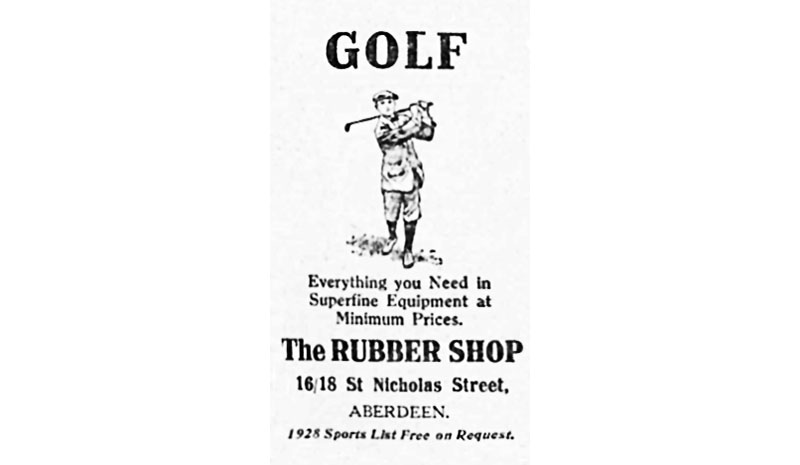 This golfer image was used in advertisements throughout the 1920s

They carried on with golfing requisites through the Second World War though supplies were obviously scarce. Small ads were placed seeking to buy used golf balls, 'price according to condition, postage refunded'. In 1945 they moved, again taking over another hat shop, to George Street where they remained until July 1986 and demolition for the creation of the St Nicholas and Bon Accord centres.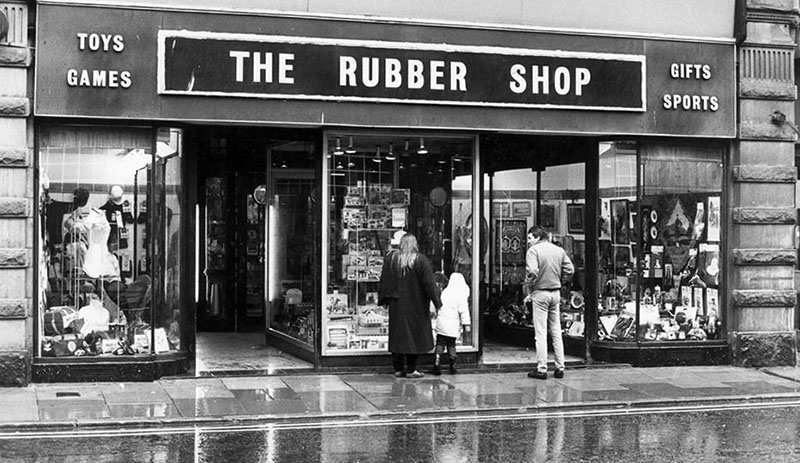 The Rubber Shop at 16 George Street, 1970s

It's hard to describe the fascination of the wonderful Aladdin's cave which was The Rubber Shop. It had its sporting goods, a fantastic toy section and 'funcy goods', porcelain and china. I was going to recount the wonder of a small boy wandering around it but I realise I was still spellbound exploring it in my mid-twenties.