Places
Marienbad: Austro-Hungarian splendour
(Source: © 2020, Douglas MacKenzie)
It's impossible not to feel sorry for Carlsbad, beautiful and everything you could ask for in a spa, but forever in the shadow of an older sister, no prettier, no smarter but turns heads because of her famous boyfriend and his fancy car. The older sister, in this case, is Marienbad and the boyfriend King Edward VII. Perhaps not the boyfriend to take home to mother, not least because he was already married, which may explain his low profile stays in the town as Lord Renfrew or the Duke of Lancaster.
He had been 'taking the waters' at Marienbad, from before his coronation in 1901, but 1905 brought golf to the town and the club's status as the oldest in what is now the Czech Republic. A nine-hole course had been laid out by Robert Doig, a clubmaker foreman for Willie Park in Musselburgh and in London, and who had been given the commission on Park's recommendation which, pardon my cynicism, suggests it was not that great a deal or Willie would have had it for himself. Perhaps remaining as the club's professional was a requirement. Doig did, in fact, fulfil this role for several summers, spending the winter months as professional in Rome. The opening in 1905 was attended by King Edward VII, both he and the British ambassador to Vienna, Sir Edward Goschen, becoming members of the club. Edward also gave 600 Krone to the club and continued to support it financially until his death in 1910. A similar cigarette case was also presented to his physician, Dr Ott, to thank him for his care!
The course was described at the time by an anonymous correspondent as, 'delightfully situated on high, rolling ground, twenty minutes walk from Marienbad on the Carlsbad road …. The ground is mossy and spongy. There are four artificial bunkers and natural ditches and a stone hazard.'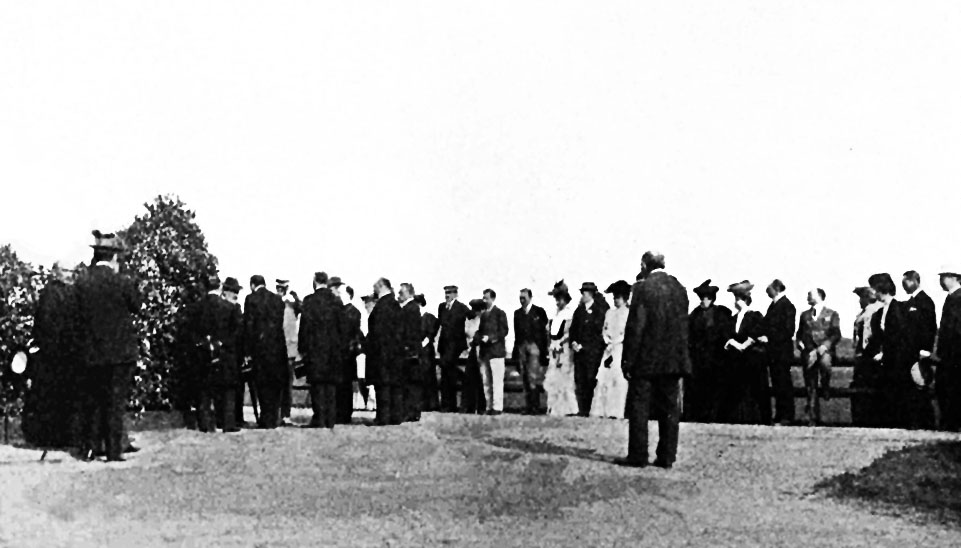 King Edward VII and the opening of the Marienbad course, 1905

When he returned the following year he presented competition prizes: a gold cigarette case with the King's initials in rubies and diamonds as the mens' prize; for the ladies, a gold handbag with a lock studded with diamonds, rubies and other precious stones. Every year when he returned there were luxurious ladies' and mens' prizes for competition: more gold and diamond cigarette cases, enamel brooches with diamonds, gold watches, rather better than the typical solitary unmatchable wine glass with squint engraving (sorry, I don't wish to sound bitter).
Marienbad clearly had an effect on British society with visitors including Lloyd George and Rudyard Kipling, and the actor Sir Charles Hawtrey on the handicapping committee, but also with imitation. Woodhall Spa asked in a 1909 advertisement, "Why go to Marienbad?" and offered 'Marienbad cures' along with golf.
Just like any other club, it had its inter-club matches and rivalries and the natural competitor was Carlsbad. Then again, it's not every village duel which features a prince on either side as captain, as was the case in 1907, Prince E Demidoff from the Russian embassy in Vienna for Carlsbad (though he was a member of both clubs) against Prince R de Rohan for Marienbad, with a Roosevelt, the cousin of Teddy, and another five Americans taking part. Carlsbad, incidentally, won both the singles and the foursomes.
It did not have the proselytising zeal of Carlsbad, bringing in instructors to teach the game. Robert Doig remained as professional from the course opening until the onset of World War I (leaving it a little too late and becoming interned as his biography explains) with his brother Jimmy, as assistant. In the mid-1920s, after the club shut down for the First World War, Yorkshireman Harry Brown, was there to get it going and he was followed by another Yorkshireman, A D Lees, as 'playing professional' in 1929 so he may not have spent a great deal of time at the club though he returned, after his tenure there, in 1935 to be runner-up behind Scotsman Mark Seymour in the inaugural Czechoslovakian Open and again in 1937 when he was again second, five strokes behind Henry Cotton.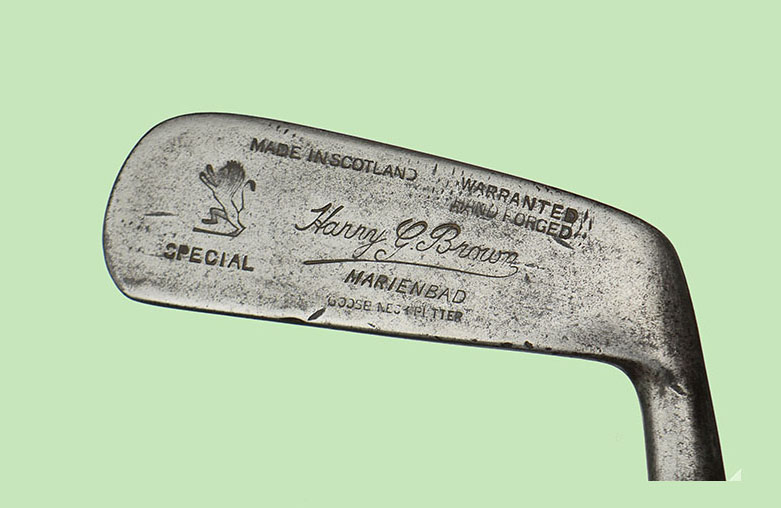 A Harry Brown putter from Marienbad in the 1920s