The Far East
Philippines, Japan and China: Tom Nicoll
(Source: © 2017, Douglas MacKenzie FSAScot)
A long time ago (2004, in fact) I wrote a piece on this website about golfing in the Far East (that's Asia and China for us, not Long Island). It's nice to be able to follow that up now in 2017 with one which has a 'people' connection.
Back before Christmas, someone in the US sent me the grainy and overexposed picture below of Tom Nicoll asking if I knew anything about him. Unfortunately an email crash while travelling (during British Airways' last meltdown but one) means I have lost the email so I hope, whoever you are, you see this and perhaps you can tell me again where it was taken.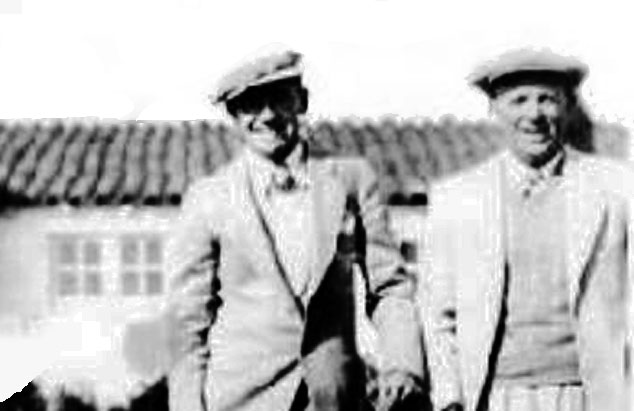 Tom Nicoll at one of his American clubs, perhaps San Jose

Tom Nicoll, a native of St Andrews, grew up on his father's farm at Claremont which he claimed gave him the knowledge he needed to be a golf course architect (aye, whaurs 'at on yir resume, Mr Fazio?)! He emigrated to San Franciso and worked for a 'Scotch commercial firm' but 'with golf then in its infancy in California .... I came to the conclusion there was an opportunity' and left after a month.
His first jobs were to extend the Burlingame Golf and Country Club to 18 holes and thereafter to construct an 18 hole course at Menlo Park for its Golf and Country Club.
In 1911 he found employment as professional at the San Jose Golf and Country Club. 'at that time a 9 hole course with sand greens and concrete tees .... and about twenty active players'. Golf took off and, within a year, the club had bought ground overlooking the Santa Clara valley and Nicoll constructed an 18 hole course. 'A beautiful clubhouse was built, and as it was the thing then to belong to a country club', there was no shortage of applicants for the new club' and it opened with around 300 members.
He received a telegram from the US government in 1917 offering him a contract to build a new golf course in Manila in the Philippines so he resigned from San Jose in October and sailed on the US Army Transport Sheridan for the Philippines with stops in Honolulu and Guam. He taught golf to 15 different nationalities during his four years at the Manila course and also travelled regularly to Baguio, 260 km away in the mountains, where he joined two 9-hole courses at the Country Club and Camp John Hay, a military post, into one 18-hole track creating a popular golfing destination when the weather turned too hot in Manila.
Nicoll's accounts in his old school yearbook and the St Andrews local paper do not mention it but, on a trip to visit his sister-in-law in Connecticut in 1919, the Hartford Daily Courant it was reported that he expected to be laying out a course in Beijing's Temple of Heaven. It strikes me he may have had his tongue firmly in his cheek while speaking to a gullible American journalist but he certainly saw the commercial opportunities in golf throughout the Far East.
Towards the end of his four year contract he was asked if he would extend for another two years. This was agreed on condition he only had to remain in the Philippines during the dry season. Consequently, he agreed a post with the Tokyo Golf Club to go to Japan between June and December of each year. Back in Manila after the rainy season he recalled selling a bag full of clubs to a whisky salesman on his way back to Edinburgh all stamped "Tom Nicoll, Manila PI .... How is that for sending coals to Newcastle?'.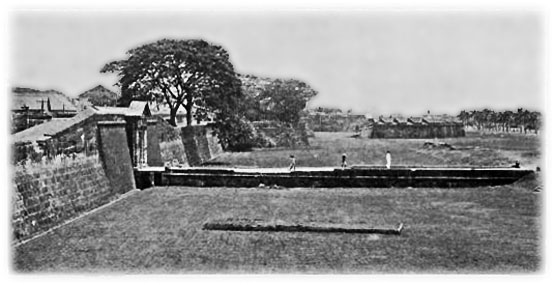 Apparently part of Manila golf course (seen here in 1929) was constructed within the old city moat

His trip to Japan, on the 22,000 ton Shinyo Maru (built in Glasgow), was paid for by the owner of the line, a member at the Tokyo Golf Club, and included ten days in Hong Kong entertained by the captain, the shipping line's agent and sent on an excursion to Canton in the company of the future King Carol of Romania. The luxury treatment continued in Tokyo which, not surprisingly, he enjoyed immensely with high praise for the members one of whom, an elderly Japanese gentleman, he taught how to make clubs. He left Tokyo for a further six months in Manila then sailed for San Francisco in 1923. 'A more kindly people I never want to meet', Nicoll said of the Japanese. No wonder, even on the journey back from Manila, when the ship put in to Mikke, someone came aboard with a note to say that a suite of rooms had been reserved for him and his wife at the Japanese Club while they remained there.
On a visit to in San Jose on his return he was offered and accepted the post of professional and superintendent at his old club. After three years here he moved to Los Altos to build a new course there and be its first professional. (This is his claim: the figures don't quite add up. He came back to California in 1923 and that was the year he designed Los Altos – perhaps he served San Jose and Los Altos jointly at first.)
St Andrews Citizen but also working as a professional, pointing out to his hometown newspaper that its assertion that the Banff course in Canada was the highest in the world at that time, at 4000 feet above sea level, was incorrect and that 'the Glenbrool Inn (sic), the course I have had charge of for the last four summers is some 6600 feet above sea level on the shores of Lake Talive (sic), Nevada.' The Citizen was clearly unaware of the geography of Nevada and could not read Tom's writing: he is describing the Glenbrook Inn at Lake Tahoe. Nicoll also laid out a course in Reno in 1936-7. Writing back to St Andrews in 1939 he noted that times were harder for golf but courses were still being built, generally municipal ones with public money and that he was working on one for the city of San Jose. He had a hand too in the re-modelling of Los Altos in 1946.
I'm not sure when he died. He was still going strong in 1952 when the previous year's St Andrews University Golf Captain, on a scholarship, came to visit him which was a nice touch for someone who wrote to the St Andrews Citizen every year with a list of questions about his old pals in the town: this was newsfeed personalisation before the days of the internet.